The Hot tub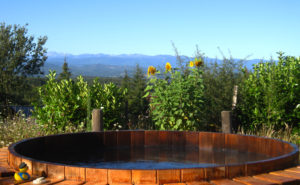 "Sanita Per Aquam", with a canadian red cedar wood hot tub
Take some time for yourself in this natural environment. Drop the stress and take the path of well-being. Experience the difference! This tub is 1meter deep, which provides this unique feeling of floating. The water is maintained at a temperature of 37 to 39 °. The red cedar wood combined with the massaging jets will bring you a feeling of well-being and relaxation.
The Spa area can be used any time from 9:00 to 24:00. The relaxing effect will be all the more effective when the outside temperature is low or following a physical effort (walking, bike, motorcycle, long road …)
From your HOTUB you have a breathtaking view of the Pyrenees , at night enjoy it to admire the stars.
This place is on private reservation, it can accommodate up to 5 people.